The official decision was not in our favor at all, but we are not willing to accept it as final. This is far from over, everybody!

However, our immediate concern is for the baby, who has been through a lot already. So for now, our main focus is to finish a healthy pregnancy and also come up with a plan for right after the birth (which is still happening in the US) where the three of us are together in one healthy, sanitary place. As of right now, Mexico is not it. So we will need to get hustling on something of any nature in Canada, ideally for late December or January. It is insane to think that's possible, but we're going to try.

In the meantime, we're working on the great advice we've received from family and friends all over the place. There are plenty of people to contact, angles to work, and believe me when I say we will work all of them.

The reason we refuse to give up is simply the injustice of this situation, and not just the injustice of separating a family at such an important time in their lives. That happens to people every day in the world of immigration.

No, this is because we have been slapped down by a law that unfairly punishes people who had no say in their own immigration histories.

This is because currently, and right there during Carlos' own visa interview he witnessed this repeatedly, people are eligible to waive their inadmissibility and get a visa despite the following infractions:

Willfully choosing to run across the border or sneaking in through other means, even multiple times in certain instances, as a fully-conscious adult.
Being caught by immigration while trying to enter illegally, even multiple times, before succeeding.
Being charged with DUI (or DUIs) while in the US.
Being charged with a range of minor crimes while in the US illegally.
Meanwhile, the law also wipes clean all the time spent in the US illegally before the age of 18, because it is assumed that minors are not capable of choosing to live in the US illegally (except in one equally unfair segment of the law).
So people in all of the above situations are eligible to have their inadmissibility waived due to the hardship it would cause their US citizen spouse. Yet the law expects Carlos to be banned for life with no waiver.
The actual reason: Despite the fact that he had a valid visitor's visa to enter the US, a parent unwisely felt it would be easier if he presented a US citizen relative's birth certificate to seek entry when he was a youth. His protests were futile, because as a kid, what are you supposed to do when you're the one thinking more reasonably than your parent?
There are a few unpardonable sins in the world of immigration, the most common of which are:
1) committing a drug crime
2) falsely claiming to be a US citizen
Apparently they are both so equally heinous to US society that the law is willing to permanently ban people for either infraction regardless of their age.
So immigration law doesn't care that Carlos was a minor, or that he was forced completely against his will, not only to present a birth certificate but to enter the US at all. Immigration law doesn't care that he's never committed a crime in his life, that learned enough English to be the best English teacher at the institute where he works now, that he he graduated high school with good grades, went to college, tried to pursue a career in the health sciences. That he married a US citizen and is expecting a child who will also be a US citizen in a few months. None of this matters as much as the atrocious fact that as a youngster, he unwillingly presented a US citizen's birth certificate at the border entry point.
I am not willing to make statements about who isn't worthy of being admitted as an immigrant to the US, although I am seriously tempted to, because I believe a lot of the anti-immigrant climate in the US is aggravated by the admission of people who truly don't deserve it as much as others. The fact is, US immigration decisions don't hinge on the positive merits of its applicants. Only the severity of their negative shortcomings.
However, I am going to argue that if all those others are allowed to enter the US and live happy lives as legal residents, I can NOT see the justification in banning my husband for life. Meanwhile, there are countless others like him being hit with 10-year or lifetime un-waivable bans for immigration violations that happened before they were of an age to even have the intent to commit the offense they will suffer for as an adult. While I want this decision to change for us, I also want it to change for all the others out there who are suffering from the same unfair decision.
So we will fight, and if God gives us the strength, we'll fight until this is fair not just for us, but the others, too.
On a lighter note, this is sort of the visual depiction of how we feel right now!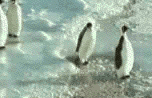 Credit to an immigration forum member for that one :)
We'll keep you all updated!